Celebrate summer by making the most of the long weekend this August. Undoubtedly the best bank holiday of the year, it is best spent in London. That's not just because the UK's biggest street party – the Notting Hill Carnival – is in town, although that is reason enough. It's also because the capital is full to the brim with exciting events. Whether a giant zipline is the stuff your dreams are made of or a world-class gin festival floats your boat, you won't be disappointed in London this bank holiday weekend.
Notting Hill Carnival
With a tradition stretching back as far as 1966, the Notting Hill Carnival has become the hottest event of the year in West London. Expect music, dancing, colourful floats and flamboyant costumes, as well as delicious street food and plenty of drinks to get the party started. There are parades, street parties and family-friendly events as part of the spectacle, which brings the best of multiculturalism and Caribbean spirit to the streets of the capital.
The Notting Hill Carnival is a full weekend event, although you can easily dip in for just a day to get a taste of the fun. Head to Notting Hill, Ladbroke Grove, Westbourne Grove, Westbourne Park or Kensal Road.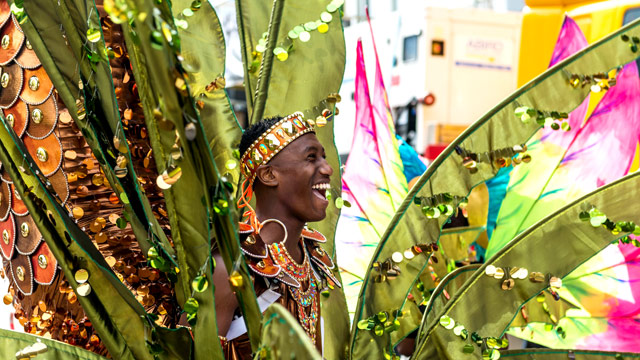 @nottinghillcarnival
Zip World London
There are a number of ways to get a bird's eye view of the capital, but a ride in the London Eye or a view of the skyline from a rooftop bar are about to look very tame. Zip World London allows you to whizz past some of the most iconic sights in the world at 50 miles per hour. Climb to the top of a 35-metre-high tower in Archbishop's Park and travel along the wire for 225 metres in the most exhilarating new attraction in London.
Lambeth North is the nearest Tube station to Zip World London, which is now open to the public.
@zipworldlondon
Gin Festival
Featuring more than 100 different gins, this festival at Tobacco Dock is one you definitely can't miss if you're a gin fan. As well as some of your old favourites, you're more than likely to find some rarities that aren't available anywhere else in the UK at present. As well as leaving with the memories of some delicious flavours, you'll also have your very own branded balloon glass to take home with you. The selection of masterclasses may even teach you something new, which sounds like a bank holiday weekend well spent!
The Gin Festival is running from August 25th to 27th.
@ginfestival
Film4 FrightFest
As if to prove that London really does have something to suit all tastes, there is the Film4 FightFest. This five-day extravaganza of all things horror and fantasy is now in its 18th year, tempting people out of the bank holiday sunshine – fingers crossed – and into the cinema. From premieres to cult classics via short films, there's plenty to keep you at the edge of your seat. Highlights of the 2017 edition of the event include The Glass Coffin, Mindhack and Cold Hell.
Screenings are split between Cineworld Leicester Square and the Prince Charles Cinema Leicester Square. The festival starts on August 24th and comes to an end on August 28th.
@film4frightfest
River Stage
The bank holiday weekend will be the last opportunity to see free performances at the National Theatre's River Stage on the South Bank of the Thames. There will be everything from live DJ sets to family theatre; an outdoor film screening and a tea dance; an apothecary cocktail bar and a pizza van. Don't miss the show from Nerija on the Monday evening. This jazz collective is certainly an act to keep an eye on, as they combine hip hop and Afrobeat with traditional jazz tropes. And if you can make it on the Sunday, you may just catch a special outdoor performance of Shakespeare's Twelfth Night, starring Tamsin Greig.
Get down to the River Stage up until its closing night on August 28th.
@riverstage